Road Map Of Web Development
I know you want to become a professional or expert in Web Development and take a Job in MNCs or as a freelancer. Well, I say truly, it's a really good choice for you. But I think you've still some doubts or confusion related to Web Development. So, don't worry you're in right place. And Trust me, after reading this article you're all doubt is clearly related to the same. Here I Discuss the following Topics:
What is Web Development

What is Frontend and Backend Development

What Language should you choose for Web Development

Pre-Require tools or Knowledge

IDE's And Tools for Development

Is Web Development Difficult?

Resources to Learn Web Development

Scope in Web Development
According to my experience or knowledge these all above topics are common and very important for web developer students who start a journey in this field. So without any delay let's explore… 😊
What is Web Development:
Generally, you can say: Web Development is a process of developing Websites (Website is a collection of web pages) for the world wide web or the internet. In this process, you make a Static or dynamic web page and manage it very easily. For example, if you have an offline Bakery shop and your shop is very famous in your town and I sure you've lots of customers in your town or city but some customers are out of your town or city and they want to buy a cake and chocolates from your shops but they haven't reached your shop because you've changed your location last week. So in this case you lost one customer and it may more customers lost because they can't find you. So in this case you've to get your business online and keep updating your website location or New Dish, and your customer also makes online orders if you allow. And your business really grows as compare to offline.
There are Few Types of Websites:
Here we found Tow Concept Back-End Development and Front-End Development that we discuss our Next Topic.
What is Back-end And Front-end Development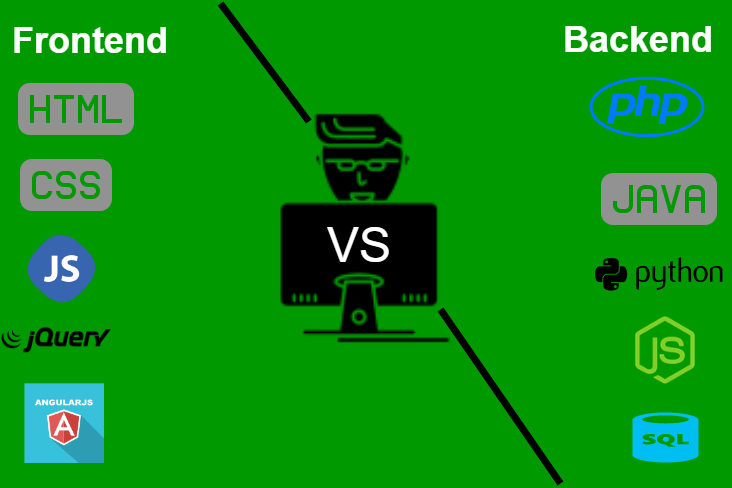 Well, Web Development we can classify into two categories first one is Front-end and another is Back-end development. Both are two different terms so let's understand:
1.

Front-end Development:
It is the part of the website the user interacts directly with your website. It also called 'Clint Side' of the Web application. It includes everything that user experience about your product, services, color or website effect and animation, Images, Videos, Buttons, Tables, Navigation Menu, etc. so What language you should learn to Make Front End Website we mentioned below
HTML / HTML5

CSS / CSS3

JavaScript
Basically, these three languages are most important to learn front end design. And if you're a beginner, then you shouldn't deep dive in these three. You at least knowledge in HTML, CSS, and JavaScript Percent's like:
HTML – 75%

CSS – 65%

JavaScript – 50%
And It enough for you as a Beginner. Here some pre-made tools you can use in your front-end designing like Bootstrap, ColorPen, etc. it is very good tools to design or develop your site quickly but If you're a beginner then I don't recommend these tools. You should practice in manual and make some awesome project using your Creativity skill in Design using CSS and JavaScript. You can also take some references from the internet but, "Not copy Paste" only you should take reference and make itself. And some Front-end development libraries are available like AngularJS, jquery, ReactJS etc Here you learn the remaining 50% of JavaScript Term that you make Perfect in front-end Design.
2.

Back-end Development:
Back is a server-side of the website that store or manage data from user form to Database. In this part, you can't see what's going on this side. The backend side communicates with the frontend to sending or receiving data or information to be displayed as a web page. In this portion, your browser sends a request to the server-side, which returns some kinds of related information in the form of frontend code that the browser can interpret and display you. Umm.. generally your website will need to have additional backend components to make it a dynamic web application "Dynamicweb Application: A website whose content can change based on what is in its database, and that can be modified by the user given inputs.
Your website needs a specific database to manage all the customer and product information or else. A database stores website content in a structured way that makes it easy to retrieve, organized, edit, delete, and update or save data. It runs on a remote computer called Server. There are many different Databases management Systems like SQL Server, MySQL, PostgresSQL, Oracle, DB2 etc. There are few common backend languages used for Backend:
Well, programming languages often run on frameworks that simplify the web development process. Laravel for example is a framework written in PHP. As a beginner, you can choose your first backend programming language because it is easy to learn and easy to understand.
What Language should you choose?
Well, I discuss all programming the language you should choose your web-development carrier but here I summarise my words; If you are a beginner then you should choose the following language for backend or frontend both:
HTML

CSS

JavaScript

PHP

MySQL Database

Frameworks (as your choice)
You can use the bucket technique for development carrier like the given diagram.
JQuerry
Framework
DATABASE/MySQL
PHP
JAVASCRIPT
CSS
HTML
Sure this bucket diagram is made easy for your web development carrier. So let's moved forward.
Pre-Require tools or Knowledge for Web Development:
Well, This is a very common question for all of us actually you can use any tools that are available in the market that you are feel comfortable but we have mentioned some IDEs below; but first I tell you a brief about IDEs.
What is the Integrated Development Environment (IDE)?
It is a software application that provides you a visually graphic interface to simplify your software development or coding. It makes easy testing, debugging, and formatting your code. In short, it is a user-friendly interface consisting of a code editor.
In today's market, you can see a variety of IDEs, which turns code into functioning application programs.
Here Following are the Best and common IDE's Software's to use for your software development:
Eclipse

Code:: Blocks

Xcode

RubyMine

Komodo

And more...
For Web Development you should choose Code Editor like these:
Microsoft Visual Code

Brackets

Sublime Text Editor

Notepad++

Dream Viewer

Notepad
These are the very popular open-source code editor, it very simplifies your web development about their emit functions (Auto Complete your code). In my opinion, you should choose Microsoft Visual code that is a very cool code editor for all Pro and Beginners.
Is Web development difficult?
No! it is very easy to learn for all of us even a 5th std. Students can learn about web development. But in some cases, if you haven't desire or passion for web development then it is a little bit difficult for you. In Programming, you need concentration and patience that you make experts in this field. So don't worry it is safe for your life as well carrier.
Resources to learn Web Development:
Well, This is a very important topic for students. Good guidance is very important for a carrier or life. So here In this new era, we have lots of resources to learn any technologies or languages. There are two types of resources available on the Internet first one is Paid (Premium) and Another Unpaid (Free). So if you haven't enough money or you don't wanna pay for it. Then you can go following Platform:
YouTube

Udemy (Some are Free)

LearnVern

Official Website about specific Language

Free PDF form Internet
If I say Premium content then you've to some pay for content creators or Instructors. These are also available on youtube or another Platform like:
Okey! Now we talk about my suggestion which is Open source websites:
·

Edureka!
·

LearnCode.academy

·

And more.
That all the above suggestion is according to my experience where I get help for their websites or videos.
Carrier Scope in Web Development:
Now the most important question in web development carrier. So, Currently, there's a very exciting phase going on in India's or any country's IT Sector. The humongous success of start-Ups like Flipkart, Snapdeal, Bewakoof.com, Zomato, etc. has inspired a lot of Indian techies to take that next step of working on their own ideas, and now we can see a lot of start-ups emerging in India. The trend is upwards and will prosper in the coming years. If you can brush up your coding skills and show your worth in Web or application development then your carrier prospects are very bright.
And I some advised you If you are starting to learn to code then stay motivated and be ready for the hard work because nothing comes easy in life. You should develop a passion for coding and enjoy that learning process.
I hope your all doubts and confusions are clear, if still want to ask questions then you can ask in the comment section, I like to answer you all questions
All the Best!